JobsNEAR.in

>
Career Tips

>
Tips to Improve Work Culture in Kerala
An organization is a place to achieve certain objectives and goals by bringing professionals together on a common platform and motivating them to deliver their level best to reach the same. It is essential for the employees to enjoy and improve themselves in the workplace to develop a sense of loyalty towards the organization. India is a developing nation with a fast-growing economy, good diversity, different languages, identities, religions, and cultures. It is very difficult to make generalizations in Indian culture. Job seekers, employers, and recruiters should know and understand business culture in India which they can apply in their job or business ventures (located in Kerala's cities such as Cochin, Trivandrum, and Calicut). Highly reputed entrepreneurial ventures and giant multinational companies(MNCs) residing in IT hubs like TechnoPark, Infoparks, and Cyberpark in these cities are maintaining a certain working culture in their office campus. A lot of people from inside and outside India, especially Malayalees, are trying to get a good job with a reasonable pay. For hiring an employee and maintaining the consistency of a worker, the organization should provide a well standard working environment for the employees.
Work culture plays an important role in extracting the best output from the employees and making them work in the organization for a longer time.
The organization should provide a positive environment to the employees for them to work concentrated and should motivate them to have a passion towards their work.
Work culture depends upon the beliefs, thoughts, processes, and attitudes of the employees and employer. Organisational working culture is the total sum of the traditions, values, customs, and meanings that make a company unique.
Perfect guidelines, ideologies, and principles of the organization help in building up a standard working culture in the company.
Work culture has the ability to decide the way employees interact with each other and how an organization functions.
The right set of rules and regulation helps to maintain a strong and good environment for staffs to work.
There are certain organizations where employees have to strictly follow the set of instructions and are forcefully work only by certain procedures. Such organizations will have a weak culture.
Tips and Strategies to Improve Work Culture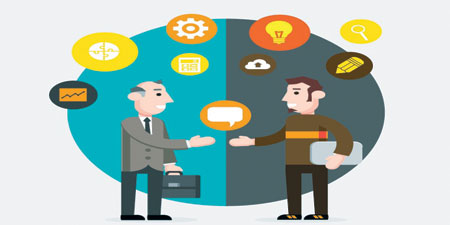 Equality Among Employees
Each employee should be treated equally, that is, each worker should be judged only by their potential and work. Partiality may lead to demotivation of workers and unhealthy work culture. Personal relationships should not interfere in your work life.
Hire the Right People
Having the right individuals in the organization will create a dynamic, profitable culture. Enhance the hiring process by concentrating on workers who have the qualities and convictions of the organization, in addition to having the relevant important aptitudes and experience.
Maintain Coordination
Coordination between employees should be appreciated and each employee should respect his/her fellow workers. Discuss and let your employee know about your organization's goals, visions, and values. The feeling of having a mutual objective moves your subordinate's attitude from being like a robot to a professional warrior of the team. Backbiting should be strictly prohibited and taken as an unprofessional behavior in the working environment for retaining a healthy work culture.
Appreciation and Rewards
Appreciation and rewarding best performers will motivate them and other workers too. Recognise each employee work potential and reward valuable contributions, this will improve retaining of employees and reduction in staffs turnover. The advantages of recognizing workers for a well done job :
It makes them feel honored and motivates them to accomplish additionally
Promptes expanded productivity
Employers who concentrate on worker qualities can eliminate dynamic withdrawal, which brings down gainfulness and profitability.
Employers who offer acclaim and rewards to their employees have a three times higher profit for value.
The acknowledgment if they meet a certain goal can be as straightforward as a manually written note, or like offering a certain amount of the employee's daily necessities.
In other words, employees who feel acknowledged or appreciated and esteemed are more productive and will help you accomplish a more beneficial primary concern.
Avoid criticising the employees who have not performed well and provide them training to improve their skills. Motivate them to improve and prepare them to become successful in the next task. Give them opportunities to improve themselves rather than firing them immediately.
Solving issues
Encourage and allow employees to discuss issues among themselves to reach a better conclusion. The organization should give each and every employee the liberty to express their ideas and thought. The interaction between the higher level company representatives such as team leaders, managers etc.. and subordinates frequently, will leads to the following benefit.
Growth of productivity
A good relationship between employee and employer
Healthy work culture
Rules and Regulation in Workplace
Practical guidelines and employee friendly policies in companies may help every employee to comfortably work in a company. Rules and regulations should benefit the employees and help to maintain disciplined workplace.
Employers as Mentors
The employer should be like mentors or teachers to the subordinates. It will help them to improve their work. Become the source of inspiration for the employees. The high-level representative should show and guide the employees in the right direction in their work life.
Employee growth
Conduct training programs, educational classes, workshops, seminars, projects and presentations to upgrade skills of the employees. Conducting effective employee training programs gives the following advantages.
Long-term success of an organization.
Provide multiple benefits for employees and the company.
Prepare them to face hard tasks and to solve odd circumstances while working.
Motivation, morale, and productivity of employees and profit of the business can be increased by clear comprehension of strategies, policies, job functions, goals, objectives and organization reasoning to an employee.
Training is a way to a particular end, so remembering objectives in mind during the advancement and implementation phases of your training program will create a clearly defined and effective program.
Build your team
Appreciate team building activities to create a strong bond the between you and your employees. Without a team, it's like just a bunch of individuals working for separate goals. Teamwork is necessary for an organization. It's not important that who gets the credit but how to accomplish everything together. You're knit together, not separated.
Reinforce Transparency
Transparency with your workers is the way of creating a strong bond of trust and faithfulness which may lead to improving a good working culture. Transparency makes positivity in employees. The transparency of a company culture will make an impact on the entire organization and the workers. The major barrier to transparency is outdated communication tools. Provide an easy and efficient way which helps the employees to connect with one another, and to share their works.
Feedbacks
Right feedbacks and consistent criticism to your workers will enhance their performance with your organizational culture. Regular feedback in a working environment helps in clarification of an employee's role in the company and in ensuring the awareness of the tasks and responsibilities of the employee on the job. Determination of how the employee's input and output are affecting other staffs can also be clarified by feedback from the employer.
Reasons for why there should be feed back :
Through feedbacks, employees themselves want to be told how they can improve.
A strong feedback environment is needed in every workplace to improve and develop the company.
Without a good feedback structure, workers will tend to regulate themselves and often end up being more lazy towards their job.
By conveying proper feedbacks, you are providing essential guidance for the employee.
Address Problems and Issues
Workers will be able to see an enhanced culture when they can uninhibitedly share concerns or issues that manifest in the working environment. Workers need to feel that administration will catch wind of serious issues or advancements before management administration harms operations or makes clients deformity of the opposition. In a strong culture, pioneers immediately address these issues and keep staff refreshed in advance toward a determination.
Clarification on Certain Issues
In a useless culture where no data is given to the staff, chatter and gossip spread all over the workplace. There is no need for a pioneer to share confidential details to the employee. But if they are pointed by any employees in some circumstance, they should be honest in what they reveal. Off base or hesitant correspondences produce doubt among representatives. At the point when trust is lost, it's exceptionally hard to recover.
For more details, visit:
http://content.wisestep.com/how-to-improve-work-culture-in-organization-best-tips/
http://www.talentculture.com/how-to-improve-work-culture-and-avoid-staff-burnouts/
http://quickbooks.intuit.com/r/management-and-training/create-effective-employee-training-program/
http://www.thebalance.com/culture-your-environment-for-people-at-work-1918809
http://hbr.org/2013/12/building-a-feedback-rich-culture