JobsNEAR.in

>
Career Tips

>
Aptitude Test in Kerala
In the past, Malayalee graduates were fleeing to developed cities inside and outside the nation for their successful career and future. But now, by the introduction of IT Parks (Info Park, Techno Park and Cyber Park), Smart Cities mission (by the Government of India) and Kerala State IT Mission (under Department of Information Technology in Kerala) has made a huge impact on the economy and employment rate. Tourism and traditional industries have also contributed heavily to the economy of Kerala. Ernakulam, Trivandrum and Kozhikode are the main cities in Kerala with more job opportunities. Ernakulam is the major financial and commercial hub of Kerala. Cochin Port and Cochin Shipyard in Ernakulam city have contributed huge advantage for the rise in employment and economic rate. So in present Kerala, a number of job vacancies are high. The freshers are trying their best to get a job with reasonable pay, but on the other hand, the experienced professionals are trying their luck in better companies or in government sectors for a better pay by attending Interview tests and kpsc exams(Kerala Public Service Commission). In short, we can say, for job seekers, there are a lot of competitors. So to get a job, he/she should have some knowledge about an interview and the type of exams conducted in it. During the recruitment process, some companies assign different types of tests to candidates to evaluate them. The candidate should have the ability to recollect and transform what he/she learned in their academic and working period into suitable answers during these tests. This article includes types of tests you may have to face while attending an interview.
How to Achieve Dream Job
Explore for job postings
Make list of companies you want to apply for
Register in Job searching sites
Submit your updated resumes
Apply for job
Attend interviews
Don't lose your hope
Types of Tests While Attending an Interview
1) Aptitude Test
Aptitude test is an important test used to determine your ability to perform a particular job or task. It helps the interviewer to determine and measure reading, writing, verbal reasoning and numerical ability skills of a candidate. These tests will help the interviewer to know if the candidate's profile and experience suit the company's requirements. An advantage of using aptitude test is that the interviewer can create a detailed report about the candidate's skills and help him/her to make short lists.
The Interviewer may Test:
Spatial awareness
Verbal reasoning
Numeracy
Problem-solving
Hand/eye co-ordination or Manual dexterity.
Aptitude Tests in the Recruitment Process.
Brain Teaser Questions
Cognitive Ability Test
Spatial Visualization
Watson Glaser Test
Critical Thinking
GTIOS Psychometric Test
PSL
Rust Alpha
Situational Judgement Test
Mechanical Reasoning Test
Numerical Reasoning
Perceptual Speed
Personality and Preference Inventory (PAPI)
2) Skills and Knowledge Tests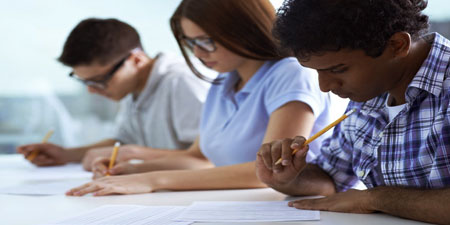 In this test, measurement of the knowledge, skills or understanding you have about a particular subject can be taken by the interviewer. A common example for knowledge test is a test regarding computer keyboard skills and your knowledge of word processing software packages. Knowledge tests is also known as achievement or skills or mastery tests, typically comprise of questions intended to evaluate specialized or proficient aptitude in particular learning areas. It can be utilized to illuminate employers what a candidate at present knows, yet not whether the individual can be depended on to master new material in an auspicious and regular way. These tests are not proper when candidates will be prepared after determination in the basic information or knowledge required for the job.
3) Technical Tests
Technical tests are practical and are used at the end of the hiring process. A technical test is useful while recruiting for job vacancies that contain a skilled or unique technical knowledge. Technical test is similar to the aptitude test. Some companies conduct merged form of technical and aptitude test called Technical Aptitude Test. Technical Aptitude tests are designed to determine suitable candidates for technical roles in IT and Industrial sectors or for engineering jobs. Technical aptitude test questions can be classified into six. They are:
1) Verbal Ability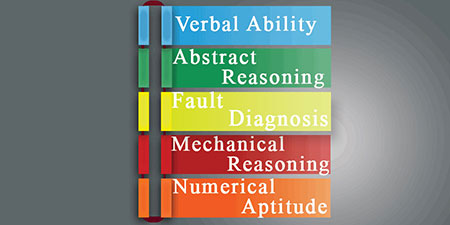 It includes reading speed, grammar, vocabulary checking, basic verbal reasoning questions, information processing, ability to understand analogies and follow detailed written instructions. These type of questions in technical aptitude tests will help the employer because employers to know your language skills and how well you can communicate.
Verbal test: The test in which verbal abilities are measured is called Verbal test or Verbal ability test.
2) Numerical Aptitude
This set of questions includes number sequences, simple mathematics and basic arithmetic. It is to measure the ability to use numbers, numerical skills, basic numeracy knowledge and numerical reasoning skills of a candidate.
3) Abstract Reasoning
These set of questions is to measures your ability to identify the logic of a pattern and then determine the solution. Abstract reasoning ability is to determine the candidate's fluid intelligence skills and his/her ability to learn new things quickly.
4) Fault Diagnosis
These questions are used to hire candidates for technical roles where they have to find and fix the bugs or faults in programs written in any programming language or electronic control systems. This type of test is used to hire professionals with technical and maintenance skills for technical roles where they have the ability to approach and solve existing problems logically.
5) Mechanical Reasoning
These type of questions are to assess your knowledge of physical and mechanical principles. For example, pulleys, levers, simple electrical circuits etc. Mechanical reasoning tests are for technical occupations such as Chemical Engineers, Civil Engineers, Electrical Engineers, Industrial Engineers, Manufacturing Engineers etc.
4) Personality Tests
A personality test at an interview is effective only where you completely comprehend the correct occupation particular, identity characteristics and aptitudes required to prevail in the part. The test can be a blend of writing, reading, or verbal analysis, or verbal examination, and the outcomes can enable you to distinguish a competitor's appropriateness to the part.
5) Situational Tests
In situational tests, the employer and assess how a candidate performs in a work related circumstance. In this test, a circumstance is recreated during the interview, the competitor is required to act in a way that they could in the event that it was a genuine situation. During situational tests, you can watch how every applicant responds and utilizes their initiative and moves to evaluate their general appropriateness for the employment. This kind of test is utilized as the last level in the selection process. It will help you to determine between your short listing of suitable applicants as to which one will perform the best in the role.
6) Intelligence Tests
An intelligence test or IQ test consists of abstract, verbal and numerical reasoning. This kind of test is specifically used even as interviewing professionals or a group of similar qualified and skilled candidates.
7) Personality Tests
After getting an exact idea about the job specification, a personality test can be held. Personality traits and skills are required to succeed in the role. The test can be a combination of writing, reading, or verbal analysis. The results of the test can help you to identify a candidate's ability and suitability to the role the company is offering.
8) Psychometric Test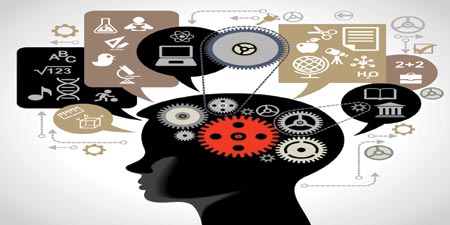 Psychometric test is used to determine intellectual and mental ability of candidates on the subject related to the job vacancy. The employer can easily find job-relevant information about the candidate which an interview wouldn't be able to do. The psychometric test includes a combination of online personality and aptitude test which determine the personality and job-related cognitive abilities of a person. This type of test allows interviewers to evaluate every candidate's reaction to various situations, at the same time by carefully look at his/her behaviour.
What is a Mock Test?
Mock Test is a test or an examination, an examinee or a candidate can practice before facing an official examination. The marks in the mock help you to have a review about your knowledge in the subject. Mock tests consist of a repetitive set of exams. Your problem solving and time management skills will increase with the number of paper you solve and the time taken to finish the paper.
7 Advantages of Mock Test
Revision of syllabus
Analyze Performance
Comprehension from the feedbacks
Improve Problem Solving Skills
Boost confidence
Better time management
Reduction of mistakes or errors
Online Mock Test in Malayalam
For the candidates who are trying their luck to get a government job in Kerala can practice Kerala psc online mock tests or other mock tests which are provided in the website links given below to improve their skills and knowledge. It will help the Malayalee job seekers who are applying for SI, Police, B Tech, Civil, PSC, Postal and DTPC job vacancies to face job interview tests easily and wisely. Given below are a list of some websites you can practice kpsc mock tests online and information about interview tests including aptitude and verbal tests.
For more information:
http://www.ldclerk.com/ldclerk_practice_test_units.php
http://www.pschunt.com/2016/12/kerala-psc-ldc-online-practice-2016-2017) html
http://www.tcyonline.com/tests/kpsc
http://www.brilliancecollege.com/psc_model_exam_subject.php
http://www.indiabix.com/online-test/verbal-ability-test/
http://www.practiceaptitudetests.com/
http://www.prep.youth4work.com/State-Public-Service-Commission/KPSC-Test