JobsNEAR.in

>
Career Tips

>
Types of Interviews in Kerala
A lot of huge IT Multinational Companies(MNC) such as Suntec, Infosys, TCS, UST Global etc.. and other Industrial sectors such as Vertex Securities Ltd, V-Guard Industries Ltd, Geojit BNP Paribas Financial Services Limited, Kitex Garments etc.. are residing and functioning in Kerala. Each company have theirs on tactics and strategies on conducting their formal interviews. As a Malayalee job seeker, you will have to attend a number of interviews before getting a job. So you should have some knowledge about the types of interviews and the company. Before attending an interview, you can ask the recruiter about the type of interview they are conducting. Knowing the format can guide you to prepare effectively. List of different types of interviews is given below. It also contains the definition, interview styles, objectives and guidelines which help you to attain the target job and to make your career and work life a success. The below information may help you to know how to attend an interview.
1) Traditional Interview
What is a Traditional Interview?
It is an interview process in which you are interviewed by a solo interviewer who represents the company.
You have to answer a series of questions designed to help the interviewer to figure out if you're a great candidate for the job and if your knowledge and skills in the work subject suits those of the job profile.
The traditional job interview utilizes expensive based inquiries.
For Example, "why would you like to work for this organization," and "tell me about your qualities and weaknesses". By evaluating the content of candidate's answers and his/her ability to communicate with truthfulness, we can only say that interview was a success or a failure.
2) Personal Interview
What is a Personal Interview?
It is a type of interview which is designed to obtain the responses of the candidate to gather more and deeper information through discussion and observation about how well the interviewer will perform on the job.
The personal interview includes the selection of the employees, promotion of employees and retirement or resignation of an employee.
A personal job interview is a bi-directional communication in which selection of new employees is done.
It is a formal meeting between two people (the interviewer and the candidate) where questions are asked by the interviewer to obtain personal details and information about his/her skills or knowledge in the job-related subject.
3) Panel Interview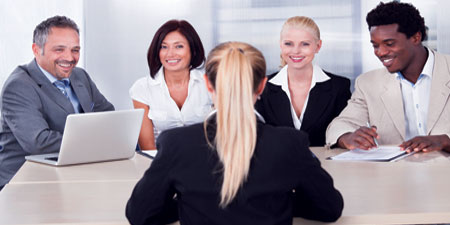 The candidate will be interviewed by a panel of representatives of the organization.
They will be from different departments of the company such as HR, programming, high-level executives and normal employees.
You have to engage each interviewer when answering a question.
You have to maintain eye contact with each interviewer in the panel who asked you the question.
Panel interviews are conducted to save time and to get different opinions regarding the candidate.
4) Telephone Interview
Some firms use the telephone as a medium for the interview.
If the candidate is not from the same locality or for an initial pre-screening call to invite the candidate for direct interview.
You must do maximum preparation as you do for face to face interview.
You have to keep in mind that First impression is important for you and for them also.
Speak with confidence with sensible pace, take a look at each question and then answer the queries.
Telephonic interview held sometimes as the preliminary round or as the last round during the interview process.
5) The Lunch Interview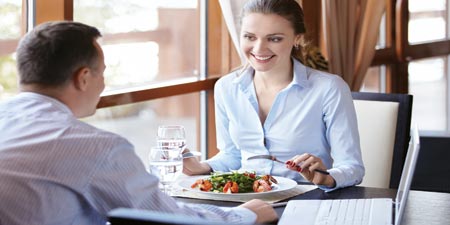 Some companies conduct their interview outside the office campus.
During Lunch interviews, the company representative wants to learn a little more about you like how you act outside of the office campus and your behaviour in public.
Patiently listen to interview questions and reply the answer in a good manner.
6) Conversational interview
It is also known as flexible interview or conversationally flexible interview.
it is an alternative style of interviewing which allows interviewers to ask candidates if they did not understand a question and provide unscripted feedback to clarify the meaning of questions as necessary.
Conversational interviewing represents a set of methods to institutionalized overview talking with whereby the interviewer are permitted to give unscripted data or feedback to the candidate with an end goal to clear up the meaning of the question.
7) Video or Skype Interview
Video or skype interview is a part of the job application or recruitment process.
Mostly it is for the people who stay in distant countries or places far away from the company campus.
They also want to know your on-screen look.
8) Stress Interview
In this type of interview, the candidate is placed in a stress situation in order to observe his/her reaction and evaluate the ability to withstand and overcome problems.
9) Case Interview
The case interview is a more specialized format ie; the employer gives you a business problem or to a solved topic for which you must prepare a presentation, may be directly on the spot or they will inform you before the interview date. They want to know directly how you convey your ideas and how you wisely present your presentation. During the presentation, remember you have to impress your audience and the representatives.
10) Puzzle interview
High profiled multinational companies like Facebook, Microsoft, Google etc.. have been known to ask puzzles or brain teasers questions in job interviews. It's because the interviewer evaluates how quickly you can think, tackle and solve a problem calmly. Thus they will know how you approach a difficult situation and how you will face problems and challenges.
11) Persuasive interviews
Persuasive Interview is gone for the expert who needs to transform a prospective employee meet-up into work offer.
This type of interview contains selling a product or an item to a person or an organization.
This interviewer might want a new hire who can utilize mental aptitude to take care of extremely specialized issues or somebody who can put in extended periods and perform well without being excessively drained(benefits of this person). As opposed to searching for a man who simply has general capacities, the company representative is searching for a man to take care of an issue or accomplish particular objectives.
12) Technical interviews
The technical interview is a common method used by employers from IT or other industrial sectors to recruit employees for engineering, science or I.T. roles.
It's an interview to measure your technical knowledge or technical ability required by the candidate for the role and the organization.
Some questions in technical interview focus less on technical ability, but on how you think and react.
It is to determine the problem-solving skills or numerical reasoning abilities. They might ask you some brainteaser or numerical reasoning question during the interview.
13) Group Interview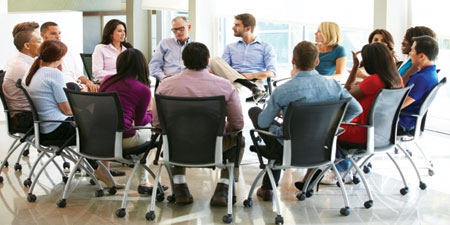 Group interviews are commonly for positions including internships, sales roles etc..
when the organization is hiring multiple people for the same job. Group interviews can include both multiple interviewers and multiple candidates.
Even if you have to attend the interview as a group, the interviewers may ask typical interview questions but maybe you'll be put to some tests.
They want to know your problem-solving skills and communication skills.
Interview Guidance & Methods for Malayalees in Kerala
For more details about types of interviews, interview process and interview guidance for job seekers in Kerala, visit:
http://thebusinesscommunication.com/what-is-interview-types-of-interviews/
http://blog.timesunion.com/careers/the-8-major-types-of-interviews/321/
http://www.careers.ox.ac.uk/types-of-interview/
http://www.careerthinker.com/interviewing/types-of-interview/
http://www.orchard.co.uk/blog/different-types-of-interviews-1536) aspx
http://targetjobs.co.uk/careers-advice/interview-types
http://www.newkerala.com/self-help/Articles/Tips-for-Job-Interview.html
All the best for your interview!!!