JobsNEAR.in

>
Career Tips

>
Home Based Jobs for Malayalees
The emergence of advanced features in Internet and social media have made a huge impact on Kerala. Home based job scams or fake jobs have the highest rank in the list of International Internet or Online Fraudulent. Many unauthorised scammers, fake companies, fake recruiters and fraudster employers started creating traps for home based workers in Kerala. They mislead the needy job seekers by offering job opportunities and looting money from them. The victims for this trap are mostly Malayalee unemployed individuals and housewives. There are different types of Home based jobs and scams associated with it.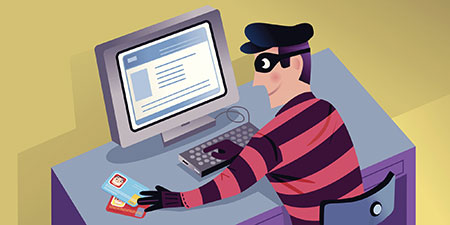 Types of Home Based Jobs and the Frauds Associated with it :
1) Online Data Entry Job
Online Data Entry jobs include entering data in to a database. The datas should be entered to a spread sheet or other forms. But there are many frauds associated with this. Be aware about the following details before selecting a data entry job :
Scammers are tricking people by offering fake data entry jobs.
They claim that these job seekers can achieve lots of money by entering data into spreadsheets for huge companies.
They trick the job seeker by charging them money as an expense for trainers or a training purpose which are paid.
These tricksters using different ways such as regulatory or administrative or test costs.
The victims will then be required to pay a charge for a remedial training that will ensure that you get the job post.
There are authorised data entry jobs or occupations out there, but these don't pay nearly as much as the tricksters will have you accept
2) Processing Claims
In this type of jobs, you'll have to buy software, equipment and fee for training purpose. But if it is a scam then after paying money, you will not receive any materials you paid for.
3) Working as a Mystery Shopper
A mystery shopping is a process in which independent or freelance professional act as a shopper. They are getting paid for visiting the companies local brands as a regular customer and report back on about their experience. These workers are trapped by the scammers for not paying wages after completing their work. This type of scam is called mystery shopping scam.
4) Posting Advertisements on the Internet for Wages
The candidates are getting paid to post the advertisements on the Internet websites including Facebook, Youtube, blogs and other social medias.
The candidate will be provided by a readily made advertisement to post. Mostly the ads will be about the organisation which are offering the job.
Initially, you will have to pay a one-time registration fee for creating your job profile.
They give fake promises to us that by creating a paid account, you will get the opportunity to make tonnes of money doing minimal work for a fixed period or a long time.
Basically, you are spamming online networking job seekers without knowing the reality and having an influence in enrolling more individuals to be misled by the company. Finally, you will not make money after hard work.
These scammer websites are professionally created, look genuine and hard to resist.
5) Multi-Level Marketing(MLM)
What is MLM and how it works? :
MLM includes hiring new individuals to sell products.
If all you are trying to find more people to do the same work you're doing, remember that there are a lot of other people attempting to do the same work in some other place.
Most of the people are not getting the payment and are getting scammed.
MLM isn't an occupation with a paycheck - it's beginning a business, without any assurances.
6) Envelope Stuffing
Envelope Stuffing and the frauds associated with it :
The scammers will be saying you'll get paid a good amount of money to stuff envelopes and send them out. The materials will be provided with every requirement you need for the job. Basically, the job is to put letters in envelopes they provide.
At first, you will have to pay the charge for an envelope stuffing kit the employer or the organisation provides. Additionally, you will also have to pay processing fees.
After registering your job and paying money, you will not receive any special information or kit to transform envelope stuffing into a profitable work from home chance.
In some cases, you might get the start up kit which is simply flyers in your mail that you are relied upon to mail out to other individuals.
These flyers are for promoting the ads of the scammers itself. You get a measly commission for every individual that signs up for the job.
7) Online Business
Be careful to note the following steps before starting an online business :
The fraudsters will approach with a help to start a new online business at a small amount of the cost of beginning a genuine business.
You should simply pay a one-time charge in advance to get you started. This could be from a few hundred to thousand rupees.
When you make this instalment, an expert will assemble and start a business website where you offer family unit merchandise available to be purchased.
All will only need some promotion to do for your business. Everything else including shipping items and stocking stock is accomplished for you.
On your end, you essentially gather a commission on each exchange. The reality here is once you pay the upfront fee, your interaction with the employer closes promptly.
This is not a genuine business and there is no way to track the swindler or recover your cash.
Other Fake Home Based Jobs
A List of Companies are looking for home based workers for the following jobs :
Typing at home
Refund-Recovery Business
At-Home Assembly Work
Craft Assembly
Medical Billing
Email Processing
Tips to Avoid Work at Home Job Scams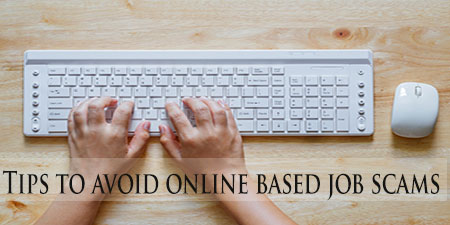 Check carefully the job listings whether the job listed or not in the job posting.
Check if the salary is mentioned and if the pay is on commission, how and when you'll get paid.
Enquire about the equipment you'll need to provide for work.
Avoid jobs which guarantee you money, financial success, or which help you to get rich fast.
Do not provide them with your personal details such as bank account or credit card numbers
Do not accept cheques or pay money. Authorised employers won't ask you to do this.
Double check the URL by using a search engine. Find out if the given URL is the official company website or not by comparing it with the URL of the official websites. Keep an eye out for extra characters in the URL, such as .net or Inc.
Do not send money, authorised employers won't charge to hire you or for start-up kits.
Enquire about the company and its legitimacy.
Contact the references to find if the company is genuine or not.
Think Twice before accepting the offer.
Read the job offer carefully. If it is not detailed and incomplete, ask them for it or drop the offer.
How to Report a Scam?
Report nearest police station
Register Cyber Crime Complaint With Cyber Cell of Police
Report with the Indian Cyber Crime department if your case is related to Cyber Harassment, Online harassment, Cyberstalking etc..
Report on Hi-Tech Crime Enquiry Cell (HTCEC)
File a Report in Internet Crime Complaint Center(IC3)
File a Report in Federal Trade Commission (FTC)
Report about the Company in Better Business Bureau (BBB)
Report about the Fraudulent Website to Google
Report on Website of Serious Fraud Investigation Office
To know more, visit:
http://www.cyberlawsindia.net/internetfraud.html
http://kerala.gov.in/cyber-cell
http://blog.ipleaders.in/how-to-register-cyber-crime-complaint-with-cyber-cell-of-police-online-complaint-procedure/
http://keralapolice.org/contacts/helpline/cyber-cell
http://www.thebalance.com/work-at-home-scams-2058822
http://www.thebalance.com/how-to-report-a-job-scam-2062184
http://india.gov.in/official-website-serious-fraud-investigation-office
http://cybercrimecomplaints.com/